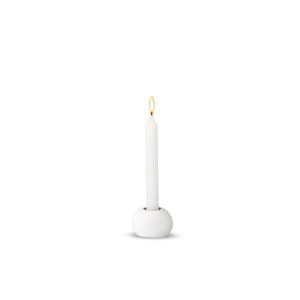 Smaller in size but big on style, our Solo Candle Holder brings a modern edge to your tabletop. Its smooth, organic design is eye-catching on its own, but you can also display it with the other styles in our Noodle Collection to create a modern tablescape.

Available in White, Black

Handmade with care using food safe, lead free and BPA free resin.
Dimensions: 2.75″ x 2″ x 2″
BURN CANDLES IN SIGHT. KEEP AWAY FROM ITEMS THAT MAY CATCH FIRE. KEEP AWAY FROM CHILDREN & PETS.
Burn on heat resistant surface. Keep wax pool free of debris. Stop burning when 1/2″ unmelted candlewax remains. Trim wick 1/4″ each time the candle is lit. Avoid drafty areas. Indoor use only. Follow recommended burn time according to candle used. Never touch or move a hot or burning candle.