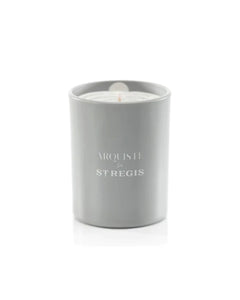 Arquiste Parfumeur is a meticulously researched and crafted fragrance collection that evokes the olfactive experience of a particular place and time. 
Caroline's Four Hundred--the signature scent of St. Regis Hotels and Resorts worldwide--is a fresh, green, naturalistic fragrance based on the flowers used during Caroline Astor's famous Gilded Age balls. 
Inspired by one of the most splendid balls held by Ms. Astor, the matriarch of the St. Regis Hotel's founding family, Caroline's Four Hundred takes its name from the 400 notable guests that represented the highest echelons of New York society. The scent captures at once the actual flowers used around her residence, the exotic woods of the ballroom, the potted palms and apple blossoms that lined the hallways, and the light, crisp essence of champagne wafting through the crowd. With notes of rich American Beauty roses--her favorite flower--green stems, white lilies and the delicate sweetness of quince, apple and cherry blossoms, Caroline's Four Hundred embraces all of the blooms that actually adorned her ballroom on that unforgettable evening in 1900.
Top Notes:  American Beauty roses, hyacinth, green stems
Heart Notes:  white lily, carnation, violet leaf
Base Notes:  quince, apple, and cherry blossoms, cedar wood, oak wood
High-concentration scented candle:  8.9 oz / 251 g.
Estimated burning time:  55 to 60 hours.